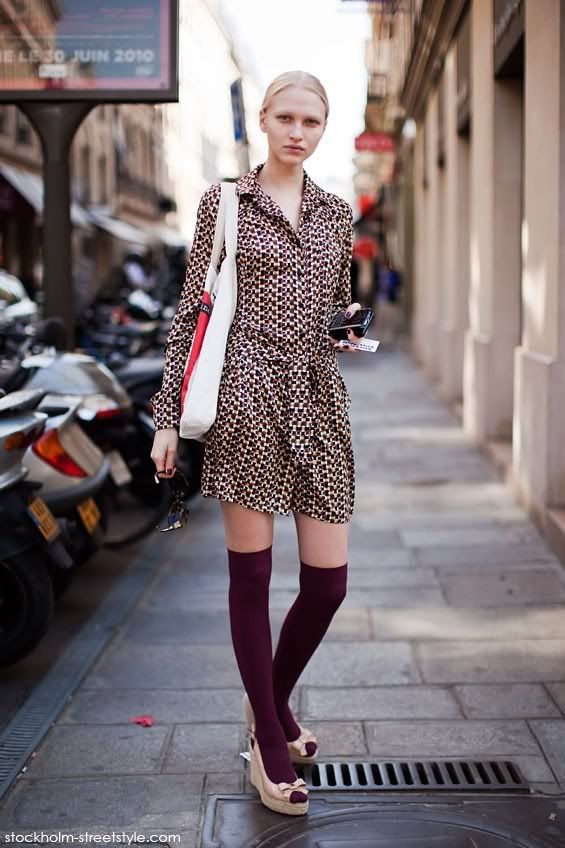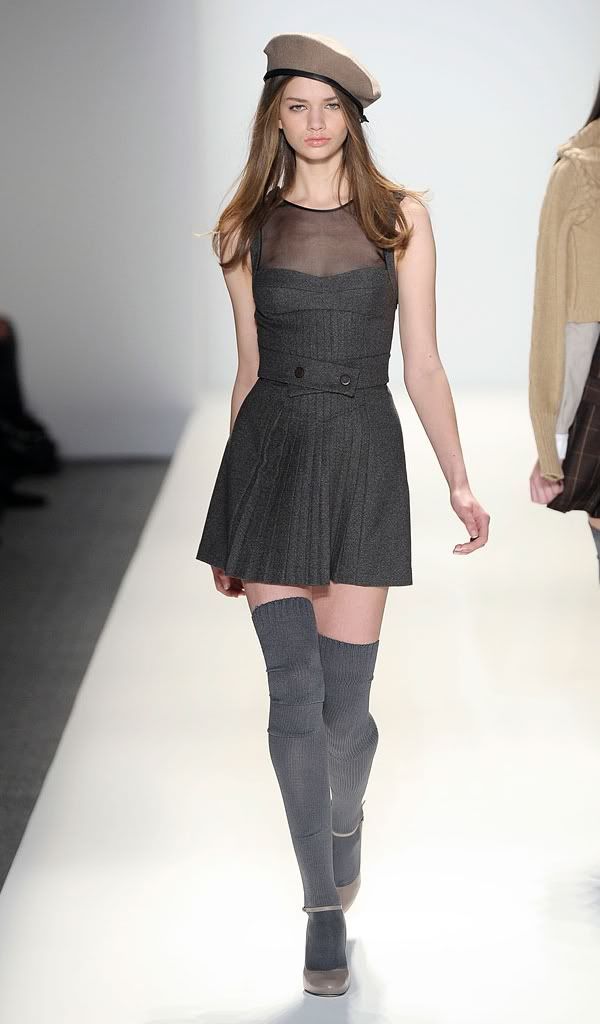 Sock styles & lengths that are in for 2010
It goes without saying that all manner of
socks
aren't suddenly a fashion trend: pair your Louboutin heels with a pair of gym socks and the fashion gods shall undoubtedly frown upon you. Rather, to compliment your 2010 wardrobe consider investing in three predominant styles:
Knee high socks

Over the knee socks

Thigh high socks
Undoubtedly thigh high socks will make the greater statement, but styled correctly any can make an outfit.
How to style knee high socks & thigh high socks in 2010
Though I'm not a big fan of rules for fashion trends (fashion trends primarily come to be courtesy of people breaking the rules) there are some simple pointers to get the thigh high socks and knee high socks fashion trend right.
Pick the length wisely: they have to suit your body's shape.





If you've got big thighs,

thigh high socks

will draw too much attention to them

Knee socks that finish below the knee may compliment your bone structure more than those

knee high socks

which finish above the knee. Try both styles on.

Knee high socks that cut off just below the knee are more likely to give you a slimmer look, as going only a short distance above the knee could result in socks that 'bulge' on your knee.

Thigh high socks provide a perfect alternative to exposed

stay-ups

from 2010's lingerie as outerwear fashion trend.

If you're short, knee high socks that cut off below the knee are best paired with a shorter hemline to expose more leg and, thus, imply greater height. The hem should be no lower than the middle of your thigh.

If you're in a colder climate then knitted socks might work for you. But avoid chunky and overt knitted socks: they were last a fashion trend back in 2007, and trends seldom repeat themselves so quickly.

Avoid pairing knee high socks with tartan and plaid skits unless you can otherwise avoid the school girl overtones. The Gossip Girl look for girls is fast becoming a faux pas.

Don't be afraid to layer. Knee high socks and over the knee socks worn over sheer, patterned stockings can add a whole new dimension to an outfit.

Nor should you be afraid to colour and texture, particularly if you want the socks to be a focal piece of your outfit